Situated in the heart of Colorado's major economic and population centers and in close proximity to worldclass research and academic institutions, Erie is a full-service community that provides state-of-the-art infrastructure and support to our corporate and retail business partners.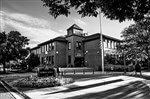 People choose Erie because it offers a small-town atmosphere,
affordable housing, quality schools, parks and open space.
Median Household Income
$
Planning Area Square Miles
Incorporated Square Miles
Acres of Parks & Open Space
Population Estimate - 2027
Based on  # Employees
St Vrain Valley School District - 612
Town of Erie - 466
King Soopers - 247
Safeway - 216
Lowe's -170
Based on # Employees
UC Boulder - 6,230
JBS USA  - 6,000
Lumen/Century Link  - 6,000
St. Vrain Valley School District  - 5,225
Ball Aerospace - 5,060
Boulder Valley School District - 4,500
Banner Health - 3,560
Medtronic  - 3,200
Vestas - 2,710
Greeley Evans School District - 2,703
TRANSPORTATION
Airports
Erie Municipal Airport (EIK), located on Highway 7, is three miles west of I-25 and includes a 4,700 foot concrete main runway open for use 365 days a year. FBO services include aircraft and hangar rentals, flight instruction, aircraft repair, fuel sales and tie-downs.
Erie also has convenient access to Denver International Airport (DEN), Rocky Mountain Metropolitan Airport (BJC), and Northern Colorado Regional Aiport (FNL).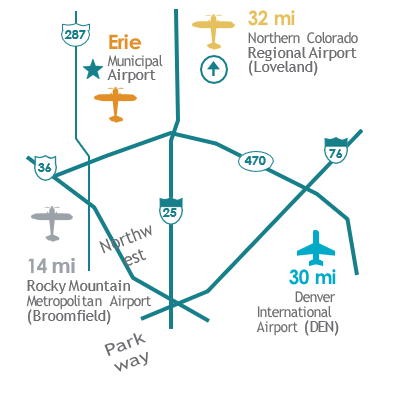 Number of schools in our community served by Boulder Valley and Saint Vrain Valley School Districts.
LOCAL PARKS & RECREATION
Neighborhood Parks -13
National Park - 45 mi
Community Park - 1
Sports Complex - 1
Dog Park - 1
Skate Park - 1
Reservoirs  - 2
18-Hole Disc Golf Course - 1
18-Hole Golf Course - 1
Velodrome - 1
Miles of Trails - 70
TOTAL ACRES OF PARKS & OPEN SPACE - 1500
REGIONAL PARKS & RECREATION
Eldora Mountain Resort - 36 mi
Red Rocks Park & Amphitheater - 37 mi
Rocky Mountain National Park - 45 mi
Winter Park - 88 mi
Garden of the Gods - 95 mi
Copper Mountain - 100 mi
Summit Valley Ski Resorts - 103 mi
Breckenridge, A-Basin, Keystone
Vail - 119 mi
Steamboat Springs - 178 mi
Aspen Valley Ski Resorts  - 217 mi
Crested Butte Mountain Resort - 250 mi